55 Best Things to Do in Bali (Indonesia)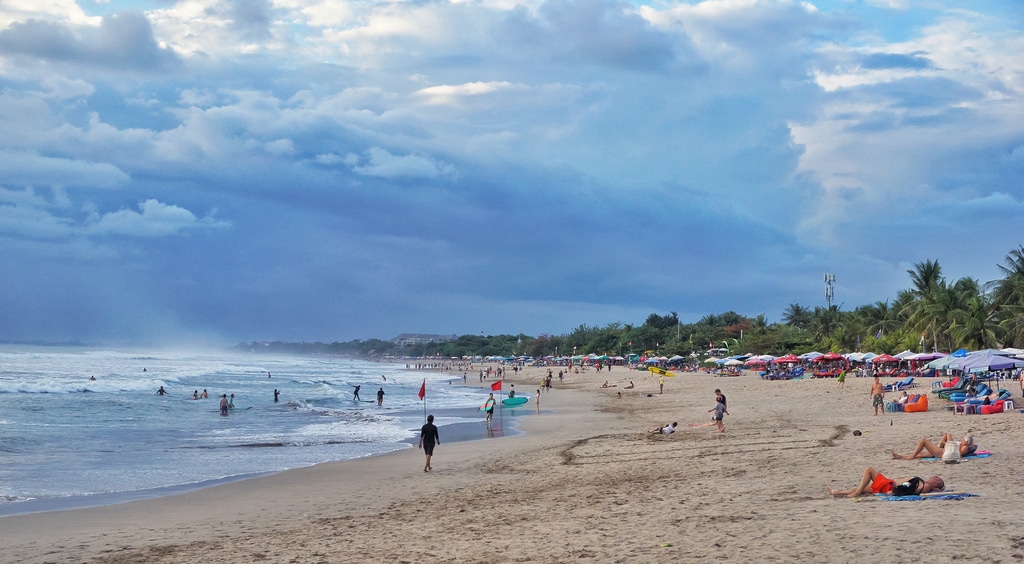 Bali is one of the most popular travel destinations in the world, and with good reason, as this island which is known as the 'Island of the Gods' is one of the most beautiful places on earth. Surrounded by azure seas and edged with golden beaches, Bali is of course a surfer's paradise, and if you are looking for a beach holiday then there is no better place to find it than this gorgeous island set in the middle of Indonesia.
As well as sea and sand however Bali has a huge number of other attractions to enjoy such as temples, caves, waterfalls, museums, and markets, and if you like history and culture then you can spend hours learning the local legends and Balinese traditions in places like Ubud.
If you like adventure activities, then you also won't be disappointed on a trip here, and you can expect a fantastic array of water sports, muck and wreck diving, and the chance fly through the jungle canopy like Tarzan.
In short, whatever you want to do, you will probably find it in Bali and you can easily spend a month here and still only see a fraction of the sights on offer. The hardest part of a holiday here is choosing where to go first and what you want to see.
Here are the 55 best things to do in Bali…
1. Go surfing in Kuta
Kuta Beach
If you haven't surfed before or are just looking for some gentle waves then you have to come to the most famous beach in Bali which is Kuta Beach.
The beach sits across from a sand bar which means it has rolling surf that is free of any sharp reefs and you can rent a board here and sign up for a surf lesson, or rent a body board if you want to try something a little less strenuous.
Locals and visitors alike come here to watch the sunset and you can relax on the sand with a cold beer and drink in the atmosphere.
Book online: 2-Hour Surfing Lessons (Includes Hotel Pick-up)
2. Visit Ulun Danu Temple
Ulun Danu Temple
Ulun Danu Temple lies at the edge of Baratan Lake in Bedugul in Bali.
This pretty building is dedicated to the goddess of the lake and is one of the quietest and most serene places on the island.
Make sure to check out all the different shrines, each one dedicated to a different god, and look out for the ornate architectural touches such as the intricate carved gates.
Recommended tour (including this temple): Bali: UNESCO World Heritage Sites Full-Day Tour
3. Have fun at Bali Treetop Adventure Park
Bali Treetop Adventure Park
If you want an adrenaline packed afternoon then make your way to Bali Treetop Adventure Park where you will find a range of rides surrounded by lush forests.
The park is great for families as well as groups or couples and has rides for children as young as 4 years old.
There are a range of different circuits that are located high up in the trees and there are nets, swings, and flying foxes galore that let you fly through the air and take in the breathtaking views over the forest canopy.
4. Have lunch at Bebek Bengil in Ubud
Bebek Bengil
Bebek Bengil means the 'Dirty Duck' in Indonesian and is one of the best loved restaurants in Ubud.
The restaurant backs onto a pretty rice field and the main specialty here is the duck which comes in a variety of different dishes.
The signature style here is the bebek betutu which is boiled in a broth made with aromatic herbs and then rubbed with local spices.
The duck is then fried until it is crispy and the skin is blistered and then served with some simple rice and vegetables.
5. Go muck diving in Padang Bai
Padang Bai is situated in the east of Bali and is most famous for its diving.
There are seven different dive sites that can easily be reached after a short boat trip from the shore and whatever your diving experience there is something for everyone here.
You can get PADI certified and if you like muck diving then this is one of the best places to do it in Bali and you will find a range of underwater critters like the blue ringed octopus and pygmy seahorses.
There is also a good chance of seeing sharks, turtles, and waving fans and coral gardens.
6. Relax at the Yoga Barn
Bali is known as a place to relax and find enlightenment and with that in mind head for the Yoga Barn which is one of the most famous yoga retreats on the island.
Located in quiet and contemplative Ubud, the Yoga Barn has five different studios and a range of programs for all levels of ability.
You can even book to stay here for a retreat lasting several days and there are cleansing and detox programs that will help you to relax and adjust to a slower pace of life.
7. Strap on a jetpack in Tanjung Benoa
Tanjung Benoa is the place to come in Bali if you want to try water sports and you can find a range of different activities on offer.
One of the most exciting however is strapping on a water jetpack which will let you fly up into the sky to a height of 10 meters and sessions usually last around 20 minutes.
One of the big draws of going jet packing is the chance to take in the beauty of Bali from the air and even if you have never done anything like this before the dedicated instructors will teach you how to fly in a safe and controlled environment.
8. Spend time in Sidemen
---
Sidemen is often left of many traveler's itineraries which is a shame as it offers you the perfect alternative to more crowded spots like Ubud.
The area is located amongst jade green rice paddies and lies in a cool valley and you can go trekking in the surrounding area and walk to secluded waterfalls and stunning vantage points that let you take in the majesty of the scenery here.
9. Buy some silver in Celuk
Celuk is a village located in Sukawati which is known for its silver smiths.
Around 30 minutes away from neighboring Ubud, you can easily visit for the day and walk along the main street of Jalan Raya Celuk where you will find a huge array of silver studios with ornately designed silverware for sale.
You can pick up a range of traditional souvenirs here or even custom order anything you want, and it is standard practice to bargain here so don't be afraid to haggle if you see something you like.
Celuk is included in this tour: Scenic Ubud and Kintamani Volcano Full-Day Tour
10. Marvel at Tanah Lot Temple
Source: flickr
Tanah Lot Temple
Tanah Lot Temple is probably the most famous attraction in Bali and is a Hindu temple that sits atop a large and scenic rock formation.
Over the years the sea has separated the rock from the mainland, and at high tide the rock is completely surrounded making this one of the most amazing sights in Indonesia.
Many people flock here for the sunsets around the temple so make sure you go early to get the best spot to watch the spectacle.
When the tide is low it is possible to walk across the sand to the temple.
Suggested tour: Bali Sunset and Dinner: Uluwatu, Tanah Lot and Jimbaran
11. Go snorkeling in Amed
If you are looking for a quieter corner of Bali undisturbed by the crowds of tourists who flock here then Amed is a great choice.
This part of the island is still relatively off the radar and is not exactly a town, but rather a collection of villages strung together next to the sea.
The reason many people come here is for the snorkeling and diving as the visibility is excellent and you can dive relatively cheaply compared to other parts of Bali.

12. Experience the culture in Ubud
Ubud is widely known as the cultural heartland of Bali so if you like art then this is the place to come.
Ubud sits amongst gorgeous rolling rice paddies and if filled with art galleries like Neka Art Museum which gives you a glimpse of the evolution of art in Bali.
You can also find galleries dedicated to jewelry, ceramics, and sculpture and you can buy arts and crafts souvenirs all over Ubud.
13. Take a cooking class at Bumbu Bali
Bumbu Bali is one of the island's most famous restaurants and is owned by Heinz von Holzen.
The restaurant also runs cooking classes which include a morning trip to a local market to learn all about local Balinese ingredients, and you can then come back to the restaurant kitchens and cook up a spectacular traditional Balinese meal.
The lesson ends with a communal lunch and you will get a certificate of participation as a memento of your class.
14. Watch a Kecak dance
Bali is famous for its dances and one of these is the Kecak dance which was developed in the 1930s.
The dance takes its name from the 'cak' sound that is repeated throughout and is based on the story of the Hindu epic called the Ramayana.
You can watch performances of the dance all over the island and many shows take place outside under the stars.
Recommended tour: Bali Sunset: Uluwatu Temple, Kecak Dance and Jimbaran Bay
15. Explore the paddy fields of Tabanan
Those looking for something a little different in Bali can head to the area of Tabanan which is covered in lush rich paddies that sparkle with an emerald hue under the sun.
The big draw here is that in addition to checking out the scenery you can also get involved and learn how rice is grown and harvested in Bali.
If you are feeling adventurous you can get knee deep in mud in a paddy and pick some of your own.
16. Spend time with the monkeys at Monkey Forest
Monkey Forest is a Hindu temple complex in Ubud and also one of its main attractions.
The complex is full of over 500 monkeys and the three temples that still stand here date from the 14th century.
The entire area is a nature reserve and you can walk around and take in the scenery as well as take photographs of the monkeys.
You can buy bananas to feed the primates from the main entrance but beware, if you have anything else on you like sunglasses or water bottles the monkeys have been known to grab what they can from visitors.
17. Bathe in the sacred waters of Tirta Empul
You may recognize Tirta Empul which was used as a location in the film Eat, Pray, Love which featured Julia Roberts.
This temple complex sits just outside of Ubud and is made up of a number of pools which are filled by fountains.
The waters here are said to be sacred and Hindus from all over Bali come here to bathe.
Anyone can swim in the waters or you can walk around the complex and check out the pretty architecture and plethora of ornate statues.
Suggested tour: Full-Day Spiritual Cleansing and Shamanic Healing Tour
18. Get back to nature at Bali Zoo
Bali Zoo sits in the Gianyar Regency and if you want to check out some Southeast Asian animals then this is the place to do it.
The zoo is made up of open air enclosures rather than cages which are meant to mimic the natural habitat of the species here.
Some of these include tigers, elephants, rhinoceros, and a range of colorful birds, and you can either visit in the day time or choose the night safari which is perfect if you want to see some of the nocturnal animals that call the zoo home.
Book online (can be booked with hotel pick-up): Bali Zoo Entrance Ticket
19. Feast on seafood in Sanur
Sanur is a sleepy seaside town that can feel miles away from busier areas like Kuta.
The big draw here is the main strip of beach which is flanked by a long pavement so you can walk along the shore line and check out the views as well as stop for a bite to eat.
Sanur is famous for its seafood restaurants and one of the best things to do in the evenings is to go for a wander and stop when you see something that looks good.
The food here is simply grilled over coconut husks for a wonderful smoky flavor and served with rice and chili sauce.
20. Marvel at Uluwatu Temple
Uluwatu Temple, Bali
Uluwatu Temple is arguably one of the most famous sights in Bali and stands 70 meters above the sea.
The temple was constructed on the side of a cliff overlooking the raging waters below and if you want truly spectacular views and ornate architecture then make sure not to miss this off the itinerary.
The temple is known for its monkey population and you can also catch a range of shows here such as famous Balinese dances.
If possible try to go in the evening so that you can catch the sunset here.
Recommended tour: Bali Sunset and Dinner: Uluwatu, Tanah Lot and Jimbaran
21. Tour a chocolate factory
You may not immediately think of chocolate when you think of Bali but actually Indonesia is one of the top producers of cocoa in the world.
As a result, you can visit Pod Chocolate Factory which makes some of the most delicious bites in Bali and find out how cocoa is grown and harvested and how the chocolate is made.
The factory offers a range of tours and of course you can buy some of the delicious treats on offer here as a sweet souvenir of your trip.
22. Climb Mount Batur
Anyone looking for some adventure in Bali needs to head to Mount Batur which stands at 1,700 meters above sea level.
This is one of the most famous volcanoes in Bali and you can take a tour to the top which usually starts out at around 4 am.
This gets you to the top in time to watch the spectacular sunrise over the crater and the mountain is encircled by a stunning lake.
This is also one of the easiest treks in Bali compared with larger mountains so if you want to say you trekked up a volcano then this is a good choice.
23. Go white water rafting on Ayung River
Ayung River – Rafting
Bali has a huge range of water sports and one of the most exciting is a trip down the Ayung River on a raft.
The river is covered with white water rapids that make for a wild ride and as you float down the Ayung you will pass little local villages and lush forests that let you take in the beautiful vistas here from a completely different vantage point.
24. Enjoy the nightlife in Kuta
Kuta Nightlife
Anyone looking for a party needs to head to Jalan Legian in Kuta.
This area is known as the main nightlife hub of Bali and you will find a huge range of different night clubs, live music events, and relaxed cafes.
The party scene keeps going into the early morning and you will also find a vast number of eateries here if you get hungry.
25. Eat green at Alchemy Cafe in Ubud
Alchemy Cafe in Ubud
If you want to eat green in Bali then you need to head to Ubud which has seen an explosion of vegetarian and vegan restaurants in recent years.
One of these is Alchemy Cafe which serves up raw and vegan foods and even has a raw chocolate factory as part of the cafe.
All the dishes here are made with local ingredients and you can choose from the famous salad bar and try some of the raw vegan sushi.
They also do a great range of smoothies and shakes made with tropical fruit as well as raw deserts and chocolates.
26. Enjoy some water sports in Sanur
Water sports in Sanur
Sanur is famous for not having any waves, so surfing is not possible here.
For this reason many visitors think that you can't get out on the water although this is completely wrong.
On the contrary, Sanur has a huge variety of water sports on offer and you can try kiting surfing, paragliding, and even standing up paddle boarding.
27. Enjoy some luxury in Nusa Dua
Nusa Dua Beach
Nusa Dua is known for being one of the most expensive parts of the island but if your budget allows for a little luxury then make your way to this upscale enclave.
Here you will find a dedicated tourist area with manicured lawns and private beaches and all of the big name resorts like the Marriott are located here.
It's a great place to relax for a few days away from the crowds and you can spend time sunbathing or enjoying a spa treatment.
28. Go for a swim at Waterbom
Waterbom, Kuta
Waterbom is a well loved institution in Kuta and a great place for families or those who want to make a splash.
This water park has a range of pools and slides as well as some hair raising rides like the Climax which is a sheer drop down a long water slides for those seeking an adrenalin pumping afternoon.
You will also find a range of cafes here if you want to get a bite to eat.
29. Go wreck diving at Tulamben
Tulamben
You can dive all around the island of Bali but if you want to try wreck diving then you will need to come to Tulamben.
Here you will find the wreck of the USAT Liberty which was sunk here in the Second World War and this is one of the most famous wrecks in the world.
You can expect to find a huge number of underwater creatures here as well as colorful fans and there is also a larger coral garden that lies close to the USAT Liberty so that you can check out both spots at the same time.
30. Have dinner in Jimbaran
Jimbaran used to be a fishing village although now it is most well known for its seafood restaurants.
Jimbaran sits on the coast and is flanked with a long stretch of golden sandy beach and you can come here and pick from any of the beachside restaurants which will let you sit with your feet in the sand and will serve you up a delicious traditional seafood barbecue.
You order the seafood according to weight and can pick from the freshest catch of the day according to what looks best when you visit.
The fish is cooked to order and served with rice and some simple side dishes.
31. Spend the day on Menjangan Island
Menjangan Island
You will find Menjangan Island in the north west of Bali and although it can take some time to get here, it is more than worth it is you want to visit the Menjangan National Marine Park.
As well as trekking on the island the main reason to come here is for the diving and you will find a plethora of underwater delights such as coral reefs and colorful fish.
There is also a good chance of seeing other sea creatures such as turtles, octopus, crabs, and rays.
32. Explore Candidasa
Beach of Candidasa, Bali
Candidasa is often not visited by travelers and is made up of a string of villages along the coast that offer a nice change of pace to areas like Kuta.
You will find a large swathe of beach here that stretches for miles and if you want a more secluded and less crowded beach experience then this is a good choice.
33. Go on safari at Bali Marine and Safari Park
Bali Marine and Safari Park
Bali Marine and Safari Park is made up of a collection of the best flora and fauna in Indonesia and you will be greeted with over 60 different species of animals here.
There are also dance and musical shows held here throughout the day and you can go on a safari tour to see the animals as they roam all over the park.
There is even the option to stay here overnight and watch graceful giraffes and elephants amble past your hotel room.
Book online: Bali Safari & Marine Park: Entrance Ticket & Visit
34. Check out the stone carvings in Batubulan
Batubulan
The village of Batubulan has made a name for itself over the years as the place to come if you want to find some of the prettiest stone carvings in Bali.
The village is around two kilometers outside Denpasar and you will find traditional carvings in the image of famous Balinese gods and goddesses as well as scenes from famous epics like the Mahabharata and the Ramayana.
The stones here are blue and black as they are made up of volcanic minerals and if you are looking for a souvenir of a trip to Bali then this is the perfect place to find one.
35. Discover a hidden waterfall in Sukawati
Sekumpul Waterfall
Bali is known for its natural beauty and no more so than its stunning waterfalls.
One of the best examples of these is the spectacular Sekumpul Waterfall which lies in a lush valley and is meant to be a sacred spot in Bali.
To get to the waterfall you will need to trek along a secluded path and you won't realize that you have arrived at the waterfall until you suddenly see it peeking out of the undergrowth.
You can swim in the pools beneath the cataract and cool off after the long hike.
36. Visit a spa
The Spa at The Edge Hotel
Bali is known for its spa experiences which blend traditional local ingredients and centuries old techniques that will leave you relaxed and rejuvenated.
One of the most amazing of all Bali's spas is The Spa and The Edge Hotel which is located in Pectau and sits on the side of a cliff.
This means that you get views over the water and can look over a sheer drop down the cliff side and the packages here mix flowers, rice, and holy water for one of the best spa experiences on the island.

37. Check out a turtle sanctuary
Serangan Turtle Island Conservation Centre
The Turtle Conservation and Education Centre is located on Serangan Island which is close to the seaside town of Sanur and is a fascinating place to come if you love turtles.
The aim of the center is to educate visitors regarding the various dangers that pollution and poaching can pose to the turtles and the staff here rescue injured turtles and care for them before they can be released back into the wild.
38. Relax on Pantai Indah
Sanur Beach
Sanur is known for its beach which is called Pantai Indah and which lies in the centre of the strip.
Here you will find clean sands and warm waters as well as a delightful beachside cafe called Warung Pantai Indah.
You can sit on a wooden bench overlooking the water and watch the fishermen at work and order a range of local dishes like satay served over hot coals as well as curries and the ubiquitous Indonesian beer called Bintang.
39. Visit Bali Provincial State Museum
Negeri Propinsi Bali
The Bali Provincial State Museum has the claim to fame of being the oldest museum in Bali and has over 10,000 items on display.
The museum is built in the traditional style and has royal pavilions and beautiful Balinese architecture aplenty.
Here you will find an amazing array of prehistoric artifacts as well as works of art and weaponry.
Other galleries are full of ceramics such as statues and stones with ancient inscriptions as well as tools and bronze pieces.
The northern royal pavilion is modeled on a Tabanan palace and you can see traditional textiles and masks used in Balinese ceremonies and dances.
40. Get off the grid at Munduk
Waterfall near Munduk, Bali
Munduk is the home of some of the prettiest waterfalls in Bali and also lies next to the spectacular Tamblingan Lake.
If you like trekking then this makes a great choice and you will find stretches of farm land, orchid fields, and local markets all over Munduk.
There are only a few guesthouses dotted around here but if you want to check out a less-visited side of Bali then Munduk offers you a great slice of local life away from the more touristy areas.
41. Buy some wood carvings in Mas
Source: flickr
Mas, Wood Carvings
Mas is a village that is around six kilometers outside of Ubud and is known all over the island for its intricate wood carvings.
If you want some of the prettiest souvenirs in Bali then make sure to come here and check out the carvings which come in a range of designs such as traditional masks and tableaus of famous Balinese stories.
Some of the most famous spots in Mas include the Nyana & Tilem Gallery as well as the I.B Sutarja Mask Carver Gallery.
42. Tuck into some Babi Guling
Babi Guling
Babi Guling is the most famous food on the island and is a dish made of suckling pig which has been spit-roasted over coals.
The pig is rubbed in a blend of local spices and herbs and then slowly roasted over several hours, and you can get this dish at a range of restaurants all over Bali.
The most famous of these however is Babi Guling Pak Malen which sits on Sunset Road, one of the main roads near Kuta, and they have been serving up this dish for years.
If you want a plate of some of the most authentic Babi Guling in Bali then make sure to make a trip here.
43. Sunbathe on Balangan Beach
Balangan Beach
Balangan Beach lies some 40 minutes outside Kuta but it feels as if you are in another world.
If you want to get away from the crowds then this is the place to do it, and you will find pristine sands and a great surf break if you want to try some surfing.
The beach sits at the bottom of a set of craggy cliffs and you can walk down a steep set of stairs cut into the cliff side in order to access the beach.
It takes a little effort to get to this secluded beach but it is more than worth it for the views and you will find a range of cafes and warungs where you can have a spot of lunch or relax and look at the sunset with a beer.
44. Explore the Don Antonio Blanco Museum
Don Antonio Blanco Museum
Antonio Blanco was a Spanish national who was born in the Philippines and then moved to Bali.
Blanco died in 1999 but when he lived in Bali he was known as one of the most important and influential foreign artists on the island.
Nowadays his home has been turned into a museum that sits on the pretty Campuhan River and you can tour the museum and take in the art work for which Blanco was famous.
Items on show include some of his possessions including a painting that he was working on which still stands on his easel.
45. Try some traditional Balinese food at Warung Blanjong
Warung Blanjong
Bali has a range of delicious local specialties that you won't find anywhere else in Indonesia, so with that in mind make sure to spend some time eating your way around the island.
One of the best places to try some of the local bites is at Warung Blanjong in Sanur which serves up traditional Balinese food such as siap betutu which is chicken roasted with local herbs and spices.
You can also try pepes be pasih which is a fish dish wrapped in banana leaves and as the staff speak English this is a good choice if you are new in town and want to sample some of the local delights.
46. Drink from the waters at Goa Gajah
Goa Gajah
Anyone who is looking for the fountain of youth needs to come to Goa Gajah which is a cave complex that means Elephant Cave in Indonesian.
The cave is best known for its statues in the form of six women carrying water pots that are also fountains.
You can drink the water that comes out of the pots and it is said to have healing properties and will keep you looking young for years to come.
The cave dates from the 9th century and you can take a guided tour around the complex which will fill you in all the historical and cultural significance of this part of Bali.
47. Go shopping at Pasar Badung
Pasar Badung
Those that like shopping need to squeeze in a trip to Pasar Badung which is a market in Denpasar that sits on the scenic banks of the Badung River.
The market is a vast complex that sprawls over four floors and you will find different areas here that sell all kinds of products including local food items like fruit, vegetables, and spices.
You can take a tour of the market and check out all the uniquely Balinese products on sale and then explore the local temples that are located close by.
48. Go caving at Uluwatu Beach
Uluwatu Beach
Surf aficionados flock to Uluwatu Beach for the waves, but many people don't know that there is a hidden gem here if you are willing to look for it.
Beneath the beach is the Uluwatu Beach Cave which looks like a dragon's lair and is a great stop off if you want to spend time in a cool and serene environment after a day spent on a baking hot beach.
49. Visit Ubud Palace
Ubud Palace
Ubud Palace is the most important spot in Ubud and dates from the 1800s.
The complex includes the palace as well as gorgeous gardens and ornate architectural features and you can explore during the day or wait until the sun comes down to venture here.
In the evenings the palace also comes alive and there are dance shows held here that are perfect if you want to take in some of the culture in a beautiful historic setting.
50. Spend time at Canggu Beach
Canggu Beach
The beach in Canggu is known for its eight kilometers of golden sands and is often voted one of the prettiest beaches in the world.
Despite its popularity however it doesn't feel crowded and still retains much of its rural charm, and popular pastimes here include swimming and surfing.
At sunset you can take in the beautiful views and there are a vast number of places dotted along the sand where you can get a drink and enjoy the sound of the waves.
51. Walk to Gitgit Waterfall
Gitgit Waterfall
Make sure not to miss Gitgit Waterfall which is widely known as the most picturesque cataract in Bali.
The waters are located between Denpasar and Singaraja and you can hike along a small trail to the waterfall that will take you past leafy forests and through coffee plantations.
The waters gush down a drop of 35 meters and there is a pool at the bottom of the waterfall where you can swim although there is also a local legend here that says that couples shouldn't bathe together as this can spell bad luck for their relationship.
52. Visit Bali Bird Park
Bali Bird Park
Bali Bird Park is filled with a vast collection of birds from all over Indonesia including an array of unusual species.
The park is located in Batubulan which is also known for its stone carving and there is an adjacent reptile farm if you want a change of pace from the birds.
The park is separated into different sections that mirror the natural habitats of the birds and you will find gorgeous avians such as colorful parrots and birds of paradise.
53. Have a drink in Seminyak
Drinks in Seminyak
Seminyak is known for being one of the best party destinations on the island and you will find a long strip of sandy beach here that has a huge number of nightlife options.
These include cafes and restaurants and in the evening many eateries set up bean bags and cushions on the beach so that you can sip a cocktail and watch the sun go down.
There are a range of famous venues here such as Ku De Ta although the best thing to do is go for a walk and see which area takes your fancy.
54. Travel to Karangasem
Karangasem
Many people never make it to Eastern Bali which is a shame as this part of the island offers a completely different experience compared to other spots like Seminyak and Kuta.
It takes around an hour and a half to get to Karangasem from Bali's main airport but it is well worth it so that you can explore areas such as Tirta Gangga which is a famed water palace that would have been used by the royal family who were the heads of the city of Amlapura.
55. Spot the dolphins in Lovina
Dolphins near Lovina
Bali is covered in beaches but one that stands out the most is Lovina as the sand is black thanks to its high mineral content and volcanic ash.
The main reason why many people visit Lovina is to see some of its resident dolphins that swim in the waters here and you can take a boat trip out in the early morning when you will have the best chance of spotting them.
For many visitors this is a highlight of a trip here and it is well worth getting up early in the morning to get a chance to spot these graceful creatures in their natural environment.