Australia Travel Tips: 10 Things You Need to Know Before Traveling to Australia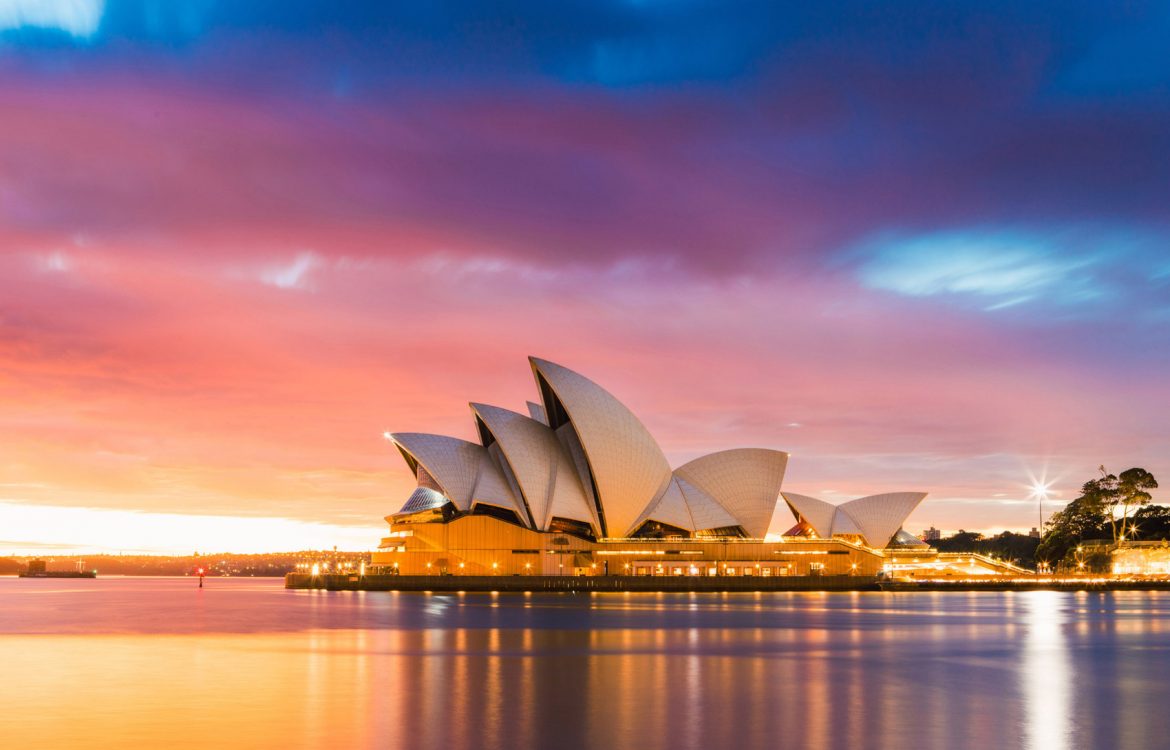 1. AUSTRALIA IS HUGE AND EXTREMELY DIVERSE
Unless you are planning to spend 6 months traveling around the country, you are not going to see it all. It may look small, but looks are deceiving.
Consider this: Australia is the 6th largest country in the world, occupying a territory of 7 692 024 sq. km, which is more than the size of ALL European Union countries. Yet it has one of the lowest population density in the world of only 3.1 people/km
Australia is HUGE!
It Takes Time To Get Around
A flight from East Coast (Brisbane) to the West Coast (Perth) will take you 5 .5 hours. If you were even considering a road trip across, you may want to reconsider.
The majority of the Australia population lives along the coast, so unless you are road tripping along the East Coast, prepare to be traveling for days on end without any interesting sites or towns to check out along the way. It's a whole lot of nothingness out there.
A road trip from Cairns to Brisbane is practically impossible in less than 3 days. And even then it's really rushed. Same goes for road-tripping from Brisbane to Sydney.
Road tripping in Australia takes time!
It will take you over 9 hours to drive from Sydney to Melbourne.
So when you need Australia travel tips for planning a trip to Australia, give yourself lots of time to explore the country.
If you want to city-hop, flying is your only option. If you want to check out off the beaten path towns – give yourself at least a month or two to explore. If you plan with the mindset of more time in fewer places, you'll definitely enjoy it more!
2. AUSTRALIA IS REALLY EXPENSIVE
Budget at least $100-$200 USD per day for accommodation, food, and activities. Transportation will probably be on top of that. If you are looking for Australia travel tips for ways to save on your trip to Australia, consider the following suggestions.
Budget for activities like enjoying a camel train on Cable Beach. Broome. Western Australia
Fly with budget airlines
Jetstar and Scoot Airways, instead of the full-service airlines like Qantas and Virgin. Unlike in the US, one-way flights in Australia aren't more expensive when compared to return flights.
So don't be afraid to book one leg at a time. Webjet.com.au is the best place to search for domestic flights in Australia.
I'm a big fan of The Yella Fella!
Travel Overland
Buy a Greyhound hop on/hop off bus pass instead of individual tickets to get from city to city. It is affordable and one of the greenest ways to see the country.
However, if you want the luxury of traveling on your own time without spending a fortune on renting a car, consider renting a relocation campervan and secure your accommodation and transportation for just $1/day plus gas!
Australia it really is a big country
Opt for B&B Type of Accommodation
If you are traveling as a couple, or with friends, consider staying in Airbnb accommodation or opt for the smaller family-run B&Bs, as nice hotels across Australia will set you back by no less than$100/night.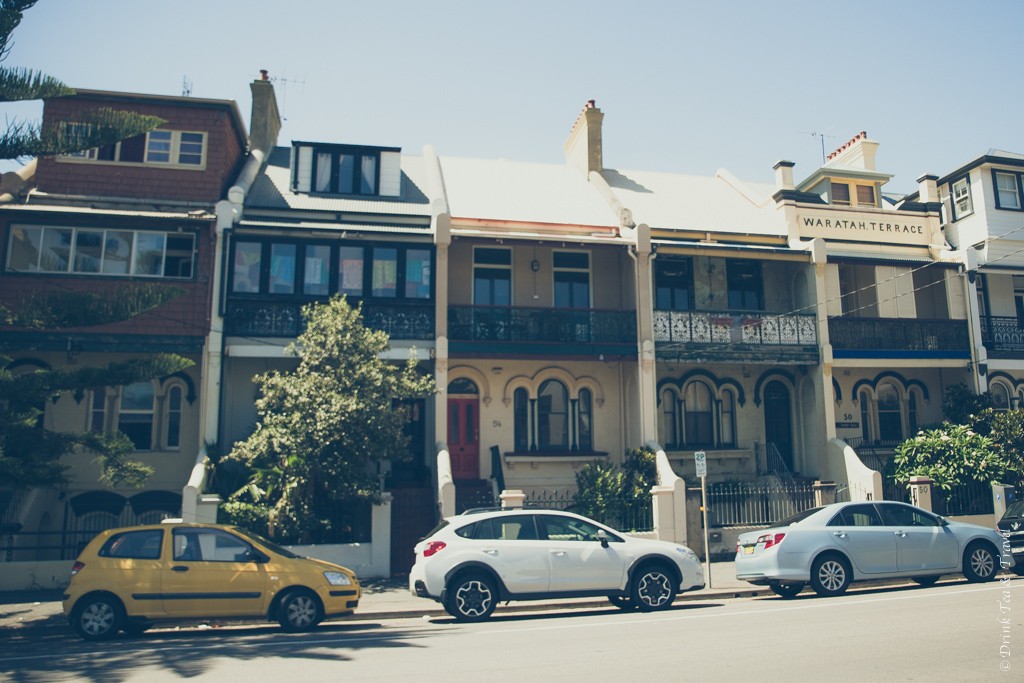 Cute houses in Newcastle. Australia
Cook your own food
There are lots of great restaurants in Australia, but this isn't Vietnam or India where local food is incredible and cheap. There is no reason to eat out every meal.
There are free public BBQs available in most parks all over Australia. You don't even need your own kitchen and you'll see plenty of Australians doing the exact same thing! Thumbs up for local experiences.
Support local businesses, by going to the farmers' markets instead of visiting local grocery chains. You'll end up paying less for your food and will be making a positive impact on the local community as well!
Farmers market selling vegetables and food in Brisbane. Australia
Drink less. And when you do drink opt to pre-drink before you head out to a bar, or drink at BYO (bring your own alcohol) restaurants.
Drinking at bars in Australia is expensive and will end up killing your budget. If budget is really tight, goon (boxed wine) is your best friend.
3. GET ACQUAINTED WITH THE LOCAL LANGUAGE
There are actually quite a few slangs and differences in Australia English vs American English. Here are just a few examples that you will likely come across on your trip.
Australian to American English Dictionary
Thongs = flip flops
Bum bag – fanny pack
Togs/swimmers – bathing suit
Capsicums = peppers
Ketchup = tomato sauce
Chips = fries
Lollies = candy
Bushwalking = hiking/trekking
Boot = trunk
Bonnet = hood of a car
Gas = petrol
Ute =pick up truck
Fortnightly = every 2 weeks.
We 'bushwalked' to the beautiful Twin Falls, Springbrook National Park, Queensland
If you are out watching a sport with some new "mates", don't ask them who they are rooting for. Rooting means having sex, not cheering. Whenever you want to find the center of the city, don't ask for directions downtown, there they call it CBD (Central Business District).
If you get sick and needs some meds, ask for the nearest chemist, not a pharmacy. Whenever someone invites you to come over for tea, it often means you are being invited for dinner.
A lot of other words are shortened, like arvo – afternoon, not to be confused with avo = avocado, barbie = bbq, bickies = biscuits or cookies, breaky = breakfast and so on.
Your name will most likely also be shortened to something that ends in "y"/"ie" or "z". (Stevie, Robbie, Marky, Caz, Loz, etc)
Lone surfer at Bar Beach going for an 'arvo' surf
4. DON'T EXPECT TO BE SURROUNDED BY KANGAROOS AND KOALAS
It is possible to spot them in the wild, but you'd have to venture out to a national park/reserve or further inland, away from the city buzz, to find them.
Sometime you may even spot them in the suburbs or on a golf course. One of the best places to see wildlife in Australia is Kangaroo Island just south of Adelaide.
While kangaroos and koalas aren't common in highly populated areas, other Australian residents are. You will likely see a lot of bats, possums, some snakes, lizards, plenty of spiders and other bugs.
There are also plenty of cool birds around. We lived just outside the city center and we saw cockatoos and rainbow lorikeets on our patio on a weekly basis.
Kangaroo in the wild. Spotted on Stradbrook Island
Koala in Lone Pine Koala Sanctuary
Australian rainbow lorikeet hanging out on a tree right in front of our patio
5. MIND YOUR GENEROSITY!
Tipping in Australia is not a common practice. You are not expected to tip in restaurants, bars, or taxis. You don't need to add a tip to your haircut bill or give any money to staff in hotels since they don't always use the best hair clippers and generally charge plenty as is, so noone ever expects a tip..
All workers in Australia are paid significantly better than elsewhere in the world, think $18.29 an hour as an absolute minimum, so the busboys and bartenders here aren't relying on them to make a decent living.
Don't worry about tipping in Australia!
Of course, if you really want to acknowledge excellent service, especially if you are dining at a high-end restaurant, you can leave a tip. But if you are out for the night, and leave a few coins behind as a tip at a bar, it's likely that someone will tell you that you've forgotten your change.
Save up that money you would otherwise tip to splurge on eco-friendly accommodation for a few days, to dine at earth-friendly restaurants, or visit ethical attractions.
Beautiful views from Sugarloaf Reservoir Lookout
6. MIND THE SUN!
We don't want to sound like your parents telling you to cover up or don't spend too much time in the sun, but don't! The sun is really strong there, so stock up on sunblock and respect the fact that you may get burned a LOT faster than you would back home, or anywhere else in the world.
No, it's not because the sun here is "different". It's the same sun, but for one environmental reason or another, it has a much stronger effect on the skin here.
South Eastern Queensland has the highest rate of skin cancer in the world! Just 30 mins in the Australian sun is enough to burn you to the crisp. Trust us, we speak from experience.
Those little clouds aren't going to save you from sunstroke!
So balance your time in the sun with time in the shade, wear sunscreen, cover up, and don't forget to stay hydrated to avoid heat stroke. And no, hydrating yourself with beer/cider/goon isn't good enough.
Since sunscreen is a MUST on your Australia packing list. We recommend you choose an ocean-friendly brand like Stream2Sea Biodegradable Sunscreen. You'll be spending a lot of time in the ocean, so be kind to the environment and pack an environmentally friendly variety.
Stay hydrated with a good insulated reusable water bottle with you and refill it straight out of a tap. We recommend HydroFlask, it'll keep your water cold for up to 12 hours even in the hot sun on the beach.
Stay hydrated while exploring! Tee Tree Bay, Noosa National Park
7. AUSTRALIAN WEATHER WILL SURPRISE YOU
Australian summer (December to March) isn't always lovely like the summers are in North America and Europe. It's hot, like really hot. In some parts of the country, it rains a lot.
In 2010 there was so much rain on the East Coast that the whole city of Brisbane flooded. While in other parts it gets so dry, there is news about bushfires on the news on a daily basis.
Enjoying the warm weather on the Dales Gorge trail. Karijini National Park. Western Australia
If you are flexible, plan to visit Australia during the shoulder season – which is October/November or April/May. It's still really warm and sunny but there is a lot less rain and unbearable humidity/heat. And if you must come during the high season – pack an umbrella or a rain jacket.
At the same time, don't assume that Australia is hot all year around. The northern parts of the country, like Darwin and Cairns, are actually fairly warm all year round, but temperatures in other parts of Australia a can go down to -5 °C or lower. Sometimes, it ever snows! Eeeeek!
A kangaroo bounds through the snow in the Bungendore ranges near Canberra.
AAP: Alan Porritt
8. DRINK LOCAL
When choosing drinks for the night, go local. Australia has a ton of great local brands and plenty of micro-breweries that are worth trying while you are here.
Just please don't ask for a pint of Fosters. If you want to go mainstream, try XXXX Gold, Coopers, Hahn, or James Squire instead or even better, opt to support one of the many up and coming craft breweries across the country!
James Squire beers
Eco-Friendly Australian Beer
Even better, stick with local "green beer" like the following.
Bare Cove Radler was the first certified carbon neutral beer to enter the Australian market.
Coopers Pale Ale has won heaps of environmental awards, and its brewery produces a surplus of renewable energy that is sent back to the South Australian energy grid.
Mountain Goat Organic Steam Ale was Australia's first organic beer. They use renewable energy at their factory and have water
Have your eyes peeled for sustainable beer brands when you're dining out.
Cascade Green produces preservative free, and carbon neutral beers. They use recycled and biodegradable products and vegetable ink for their packaging.
4Pines Brewing Company is known for their Save The Pines Program which advocates for a plastic-free Manly Beach, sustainable farming operations and marine and nature conservation.
In other news, Australia's Broo Ltd. is in talks to create the world's most environmentally friendly brewery which will run on renewable energy, and turn out carbon neutral brews.
Follow this guide for choosing an eco-friendly beer in Australia or abroad!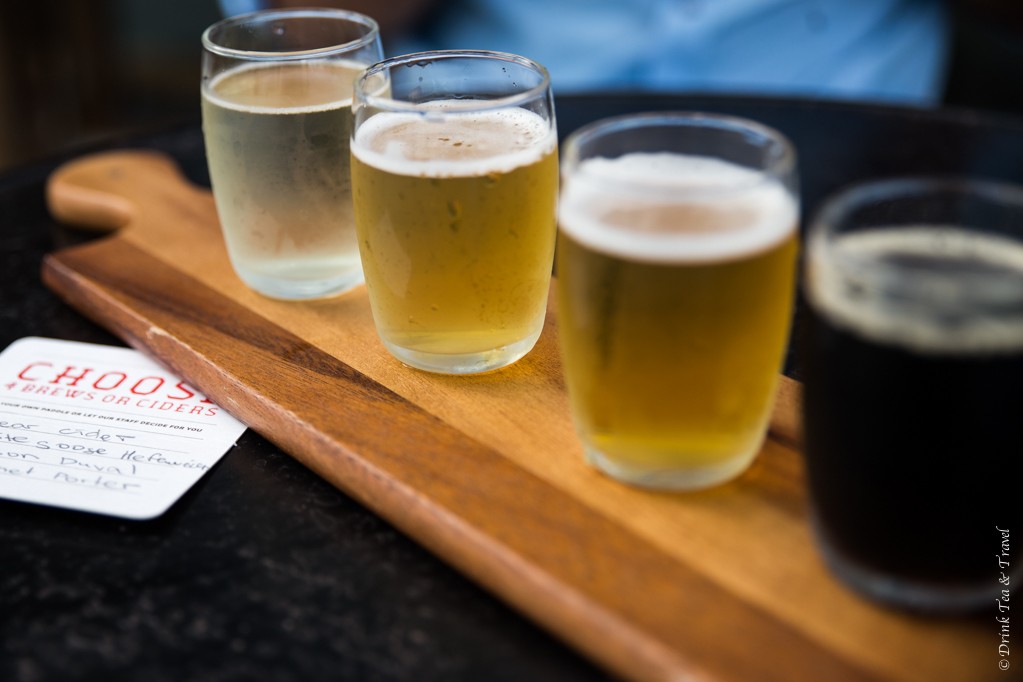 Our choice of a tasting paddle at a local microbrewery
9. LEARN TO BE OK WITH BEING OFFLINE
Internet in Australia is slow and expensive. Wifi may be available in hotels and some cafes throughout your travels, but more likely than not, the connection will be terrible. Libraries and Mcdonalds do have free wifi, so if you are desperate to get online, go there.
One of the best ways to stay connected on the road is to unlock your mobile phone before you leave home and pick up a Telstra Pay As You Go Sim card. Telstra has the best coverage across the country, so you'll be able to stay connected even in the remote areas.
It's helpful to have data for getting from place to place
It'll set you back by $30-60/month, depending on how much data you want to have, but it might be well worth it in the end.
If unlocking your phone is not an option, we recommend investing in a Wifi Hotspot device, likeSkyroam that gives you unlimited wifi for just $8/day. And the best part is that you can use it across multiple devices, so the whole family can stay connected at once!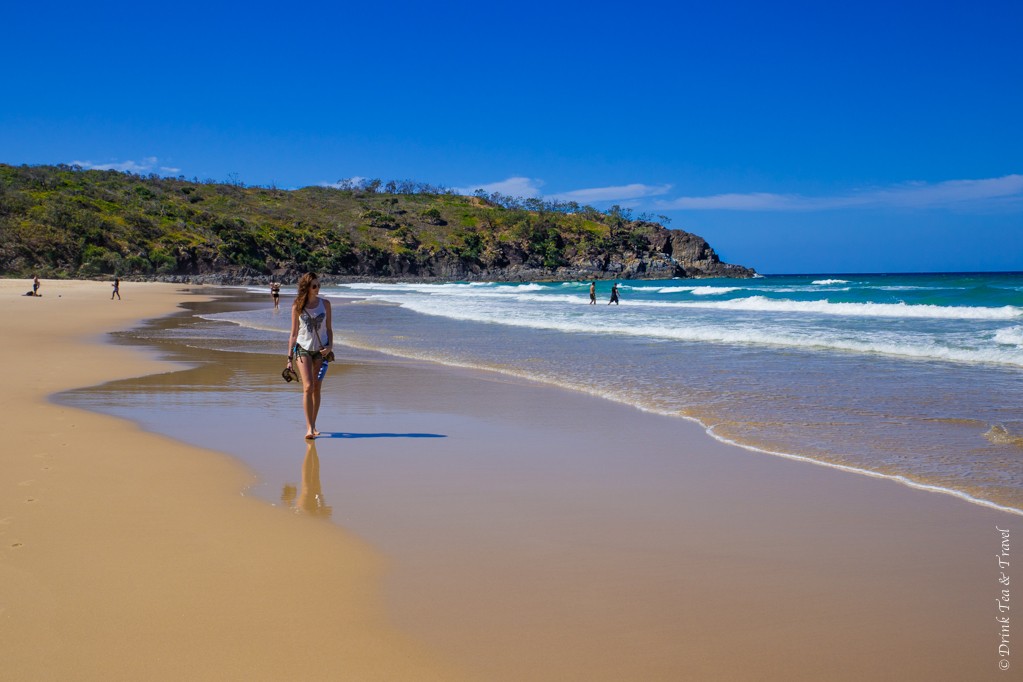 It's not hard to be offline in places like Alexandria Bay Beach, Noosa National Park
10. YOU WILL PROBABLY REALLY LIKE IT HERE
No actually, you will LOVE it here! You will see the most amazing sunsets, trek through lush green rainforests, swim in the most crystal clear waters and sunbathe on the most beautiful beaches.
You'll meet great people, hear great stories, and go on amazing adventures. You might even jump out of an airplane, learn how to dive, learn how to surf or fall in love with sailing.
You'll see all the amazing things Australia has to offer and be devastated when you have to say goodbye and board your plane back home.
So why not scrap your idea of a holiday in Australia and consider a temporary move here? It's a lot easier than you think!
Sunset in Byron Bay. With sights like these, how could you not fall in love with Australia?